Travis Nease Finishes 2nd in Restricted Open Class
Uncategorized | September 05, 2017
The Hi Camp Racing team of Travis Nease and Krista Skucas made the trip to Detroit Lakes, Minnesota on the weekend of August 25th to compete in the Muscatell Ojibwe Forest Rally. The final event on the American Rally Association's schedule for 2017. Nease and Skucas were holding onto a slim 3 point advantage over fellow competitors Jeff Seehorn and Karen Jankowski in the Restricted Open 4wd class. Going into the event they needed a victory to secure the championship, so they planned to be consistent and quick over the long rally and bring their Subaru STI home with a shot at a victory and the championship.
After a long 13 hour recce on Thursday, Travis and Krista were ready for the first stages at Ojibwe on Friday. They were running solid early-on when the shifter broke, forcing Travis to shift the car holding very low on the shifter near the boot. At one point he hit the mode button in the car, putting it into economy mode and slowing their pace. They managed to push through to the end of day one and made sure to make a cover for the mode button for the second day. On the second day of the two-day event, there was a lot of rain, making for wet sloppy conditions. The Hi Camp team would keep a conservative pace to ensure a solid finishing time, in the event the Seehorn team faltered. They knew Jeff would be on the gas trying to win the event, putting himself at a higher risk for a mistake or a mechanical failure.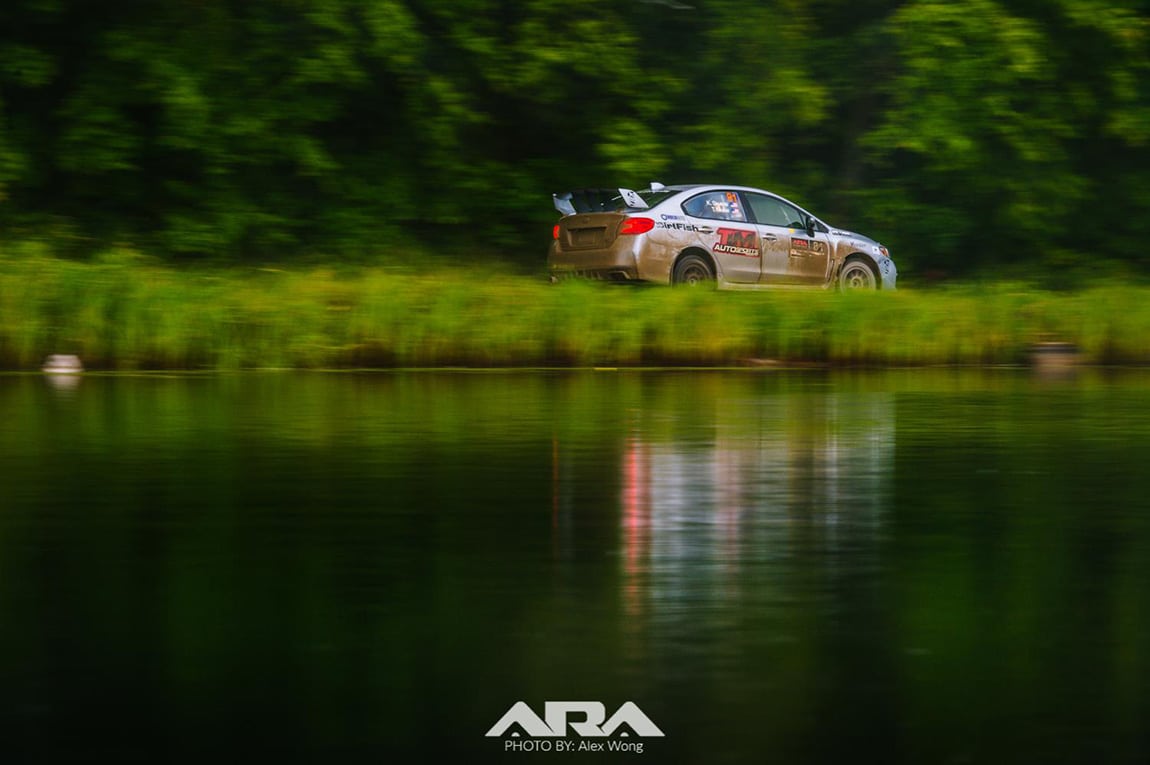 During the final stage, Travis was pushing their Subaru WRX STI, trying to finish strong, when they came in contact with one of the large plastic barriers filled with water. Krista and Travis got a kick out of the fact the barrier had "No Lift" written on the side. Despite a solid finish by Travis and Krista, the Seehorn team held strong both days and beat them for the overall RO4 victory and the championship. The Hi Camp Racing team brought home 5th overall and 2nd in the RO4 division. "It's been an awesome year, and finishing second to a great team like Jeff and Karen in our first year running a full national schedule is something we're really proud of. Our hats are off to Jeff and Karen, they're awesome people and a solid race team, Jeff was a big part of getting us back out when we had our brake issues at New England Forest Rally. It's been an awesome year and we're excited to grow as a team from here," said driver Travis Nease after the event.