#Roadtrip2RallySchool – The Build
Uncategorized | August 02, 2019
Ever since I got my first Subaru, I've wanted to go up to DirtFish Rally School. I've always wanted to learn how to drive a car like a rally driver. When Blipshift announced their t-shirt design contest, I knew I had to enter. To my surprise, I got an email not too long after the contest ended saying I'd won a trip to DirtFish. I was beyond excited when I got the news.
Along with wanting to go up to DirtFish, I've always wanted to do a big road trip and experience all the amazing things that the West Coast has to offer. So when I found out I won, I thought this would be the perfect opportunity to make this road trip happen, thus the #Roadtrip2RallySchool was born.
The Crosstrek WRX
I do a fair amount of backpacking, mountain biking, and outdoors-ing, which usually involves lots of dirt roads and off-roading. In stock form, the WRX does great on asphalt, but on dirt, it has the tendency to bottom out. To solve that, I decided to lift my 2014 WRX Hatch and throw on some all-terrain tires. My goal of the build was to keep the car looking like it came from the factory, be able to easily undo the modifications, and also keep the car daily-able, meaning it still had to function as a road car. Because of the lift, I dubbed it the Crosstrek WRX – the ground clearance of a Crosstrek with the performance of a WRX!
Suspension

Primitive Racing 1.25" Lift Spacers

King Raised Springs

Koni Yellow Adjustable Shocks

Wheels & Tires

15" Method MR 501 VT-Spec Wheels custom powder coated gold (these are the same wheels that DirtFish uses!)

205/70R15 Yokohama Geolander AT G015 Tires

Brakes

Subaru 4 pot front and 2 pot rear brakes (same as DirtFish!)

DBA Series 4000 Rotors

Hawk HPS Brake Pads

Lights

OEMassive C-Light Headlights with ODX Projector LED Bulbs

4x LED Hella 7" Lights – 2 x Driving Beam and 2x Spot Beam-mounted on an SSD Performance light bar

Roof Rack System & Tent

56" Yakima Round Bars with adapters

46" Yakima Fairing

Tepui LoPro 2 Rooftop Tent (lowest profile RTT on the market right now – only 7" tall when folded up)

Yakima FrontLoader Bike Rack

Tire Carrier

Torklift Ecohitch 2" trailer hitch (one of the only 2" hitches that I was able to find for the WRX)

RigD Supply Ultraswing tire carrier

The Overland Trail Kitchen
Before I won the contest, I knew I wanted to turn my WRX into the ultimate adventure vehicle and take an epic west coast road trip. I thought the trucks and vans at Overland Expo with built-in trail kitchens and the roof tents were cool. I've seen a lot of Outbacks and Foresters with roof tents and trail kitchens, but never a WRX. A WRX isn't the best platform for something like this due to the lack of space in the back, but I was going to run what I brung.
Some of my goals with the trail kitchen were:
Keep the use of the back seats.
Be simple enough so I could build it in my garage with the tools I have.
Be relatively lightweight as not to add too much weight to the rear of the car.
Have a flat cooking surface along with some built-in storage for pots and pans, utensils, stove, etc.
Be low profile enough that I could see out the back of the car.
Hold a powered electric cooler.
I spent about three weeks designing the trail kitchen. The first step of the process was measuring the back of the car and making cardboard cutouts to determine how much room I had. Then I got to work designing, starting with the cooler. Due to the length of the trunk in the WRX, there are only a handful of electric coolers out there that fit. I decided to go with the Dometic CF25 as it's the biggest lengthwise that will fit between the rear seats and the hatch. Once I had the cooler sorted, I started tackling the other half of the kitchen.
I knew that I wanted a flat cooking surface and could make a pull out tray, but when I've gone to Overland Expo, I noticed people putting drawers under their cooking surfaces for utensils and other small items. I figured that would be a neat way to build it. Then I used the available space above the cooking surface to put in another drawer for things like pots and pans, paper towels, etc.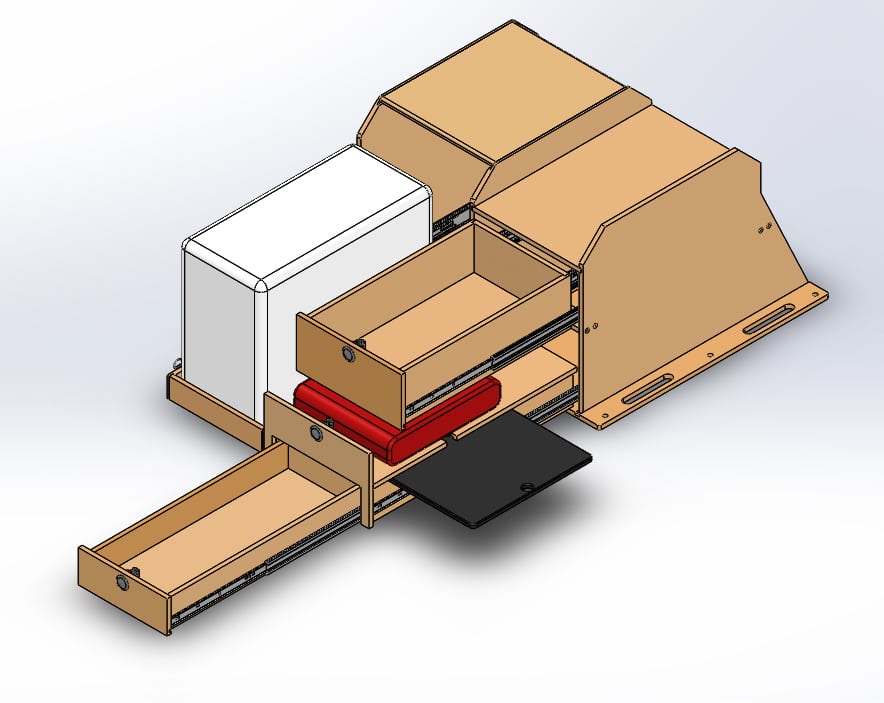 After I had a design that I was happy with, I needed to build it. To keep the cost low, I decided to go with some half inch plywood. It took me two weekends to get everything cut, sanded, stained, and assembled. Since I spent a lot of time designing and measuring beforehand, everything fit in the back of the car with minimal modifications required. It wasn't perfect, but I met all the goals I had laid out for myself.
The one thing I didn't have time to build was a dual battery system so that I could run the cooler without having to worry about it draining my main battery. I ended up running the cooler as a freezer, freezing the contents inside it as I drove. Then when the car was off, it would perform as a normal cooler until it was time to move again and it could start freezing. This actually worked well. The entire trip, the cooler never got above 25°F.
I'm hoping to design version 2.0 of the trail kitchen later this year. There are a couple of things that I want to update based on what I've learned. With that said, the trail kitchen did everything I needed it to during the road trip and it performed really well.
The Trip
Stay tuned for part 2 of the #Roadrip2RallySchool adventure!
Guest Blog by Anthony McClinton, @crosstrekwrx