#RoadTrip2RallySchool Part 3 – Canada to Arizona
Uncategorized | August 31, 2019
If you missed Part 2 about The Road Trip, click here.
Day 7 Snoqualmie, WA –> Whistler, BC Canada
Following my awesome One Day Driving Program at DirtFish, I decided to hit up a few more biking trails in the Seattle area before crossing over into Canada. The next morning, I went to Duthie Hill Bike Park and rode some amazing trails. This was another one of those places that I want to spend so much more time at. A single morning of riding was not enough to explore this place!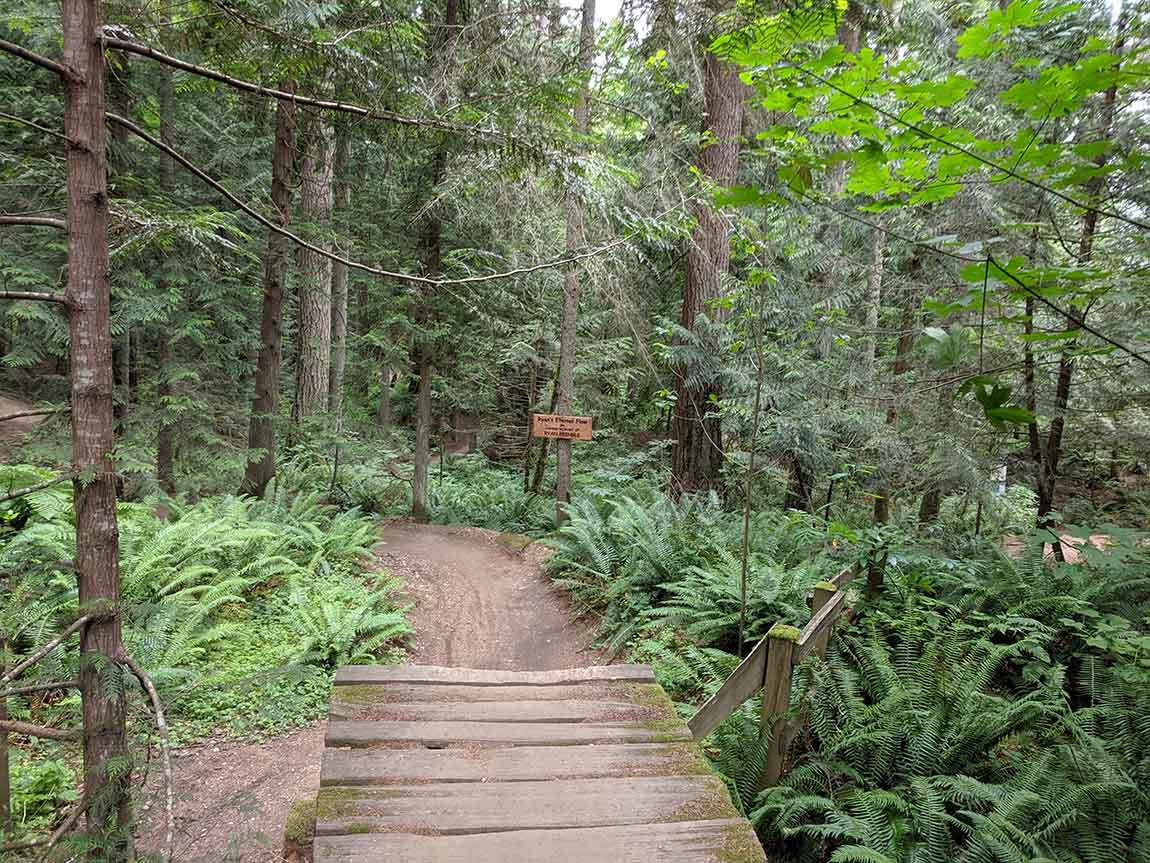 After a good biking session, I made my way north to Vancouver, British Columbia. As I arrived in Vancouver, I made a quick stop at Granville Island for lunch. This place has one of the best bratwursts anywhere, and it conveniently houses one of my favorite breweries, Granville Island Brewing. It was really cool to walk around and explore the island again, since the last time I was there it was in the middle of Winter. It was nice to see what it's like in the summertime. There was an awesome street performer there who's show was pretty amazing to watch, so that was a treat.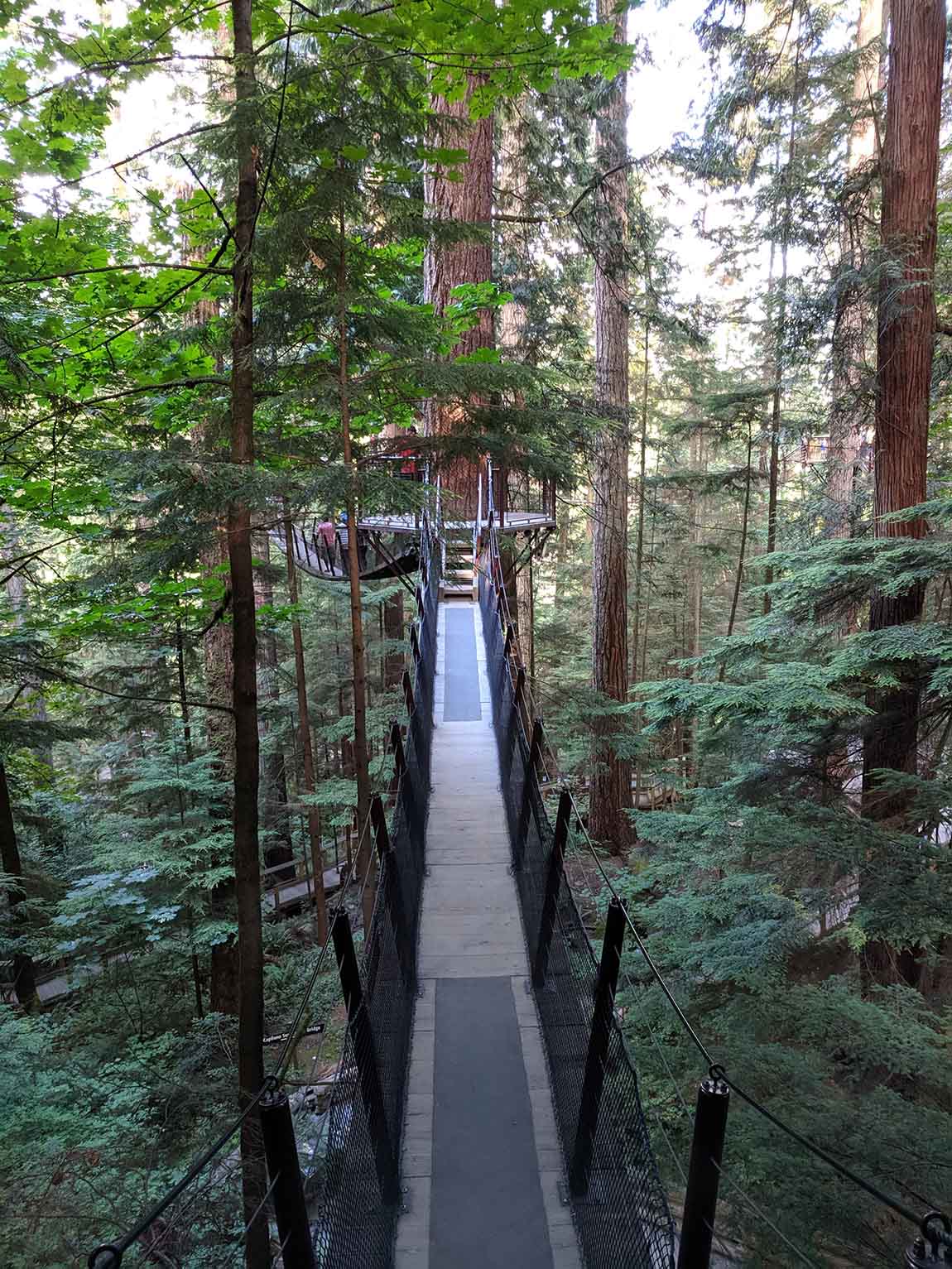 From there, I made my way to the north side of Vancouver to check out the Capilano Suspension Bridge. This was one of those places that I wasn't able to visit the last time I was in Vancouver, so it had to happen this time around. The suspension bridges in the park are pretty incredible. The views from there are simply amazing, and the multitude of bridges that crisscross through the canopy was impressive! 
The last leg of the day was along the Sea to Sky Highway that connects Vancouver to Whistler. This is one of the most beautiful drives out there, especially in the evening when you can watch the sun go down over the ocean.
Day 8 Mountain Biking in Whistler
Hands down the best flowing bike trails in the world! I basically spent the entire day riding my bike in Whistler. I did about 60 miles worth of lift-serviced downhill riding that day. By the end of the day, my arms and legs (and pretty much all of me) were really sore and tired, but man, was it a day! This was one of the most fun mountain biking days I've ever had. It was also a valuable learning experience for me. Since we don't have a ton of trails that flow like this around Flagstaff, I never really get to practice riding terrain like that. By the end of the day in Whistler, I was so much more comfortable railing into berms and launching off of big table-top jumps. I didn't hit any of the black trails just because I didn't quite feel up to it at that point, but I did ride every mile of blue trail that they had to offer (some of them multiple times). For dinner that night, being in Canada, I had to hunt down a serving of Poutine. If you don't know what Poutine is, it's a Canadian dietary staple- fries topped with gravy and cheese curds. It was delicious!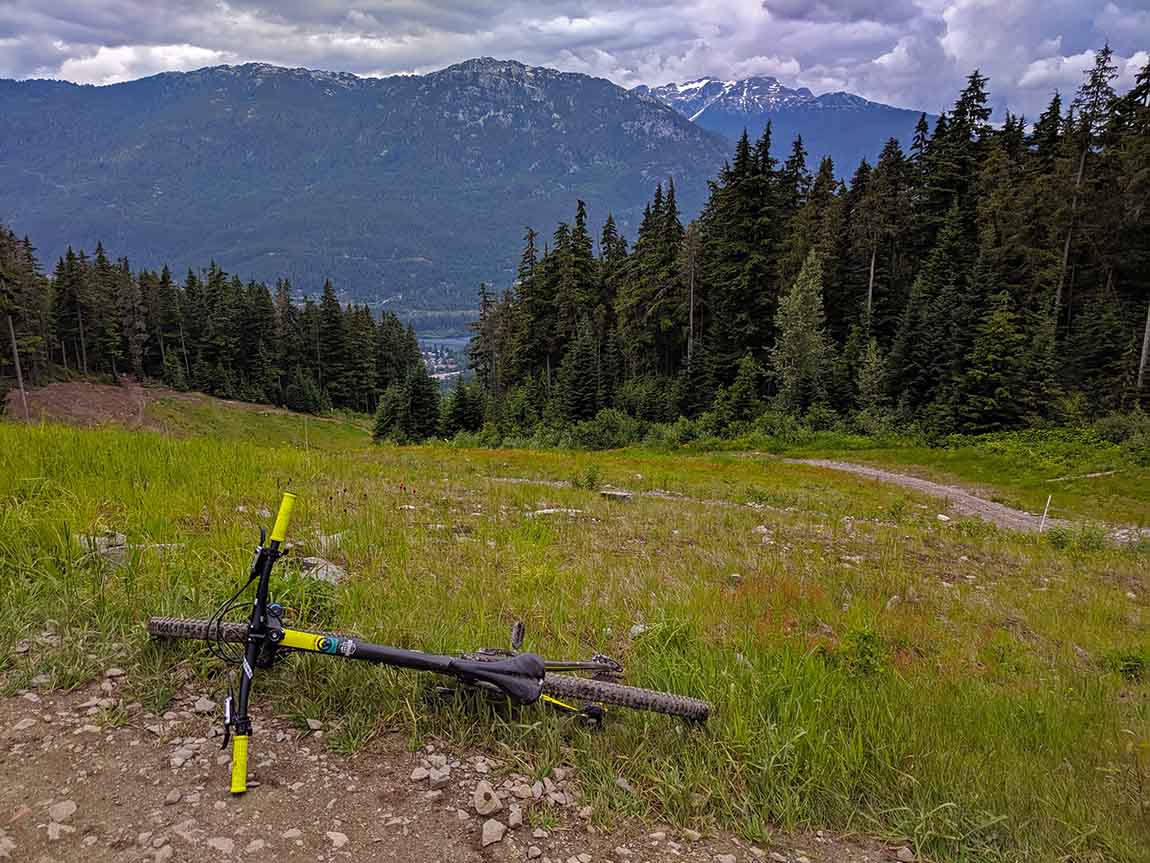 Instead of camping in Whistler, I decided to splurge and get an Airbnb for a couple of nights. This felt like a good idea since the plan was to do a ton of biking, so having access to a shower at the end of the day was perfect. Rooftenting with the Subaru was freaking sweet, but there isn't much that feels better after a long day outside than a nice hot shower!
Day 9 Whistler, BC –> Mt. Baker, WA
This was the day that I learned what the Wet Coast is all about. It rained the ENTIRE day, but that didn't stop me from exploring. During my drive south through B.C., I decided to stop by a couple of waterfalls (as if the water that was already falling from the sky wasn't enough for me). The first one was Brandywine Falls in British Columbia, which was a short hike from the road, but had a killer view! A little way south of Squamish on the Sea to Sky Highway, I stopped by Shannon Falls, which was equally impressive. This one was much taller (or at least it seemed like that since I was looking up at it from the bottom), but it also had more cascades. Regardless, still incredibly pretty.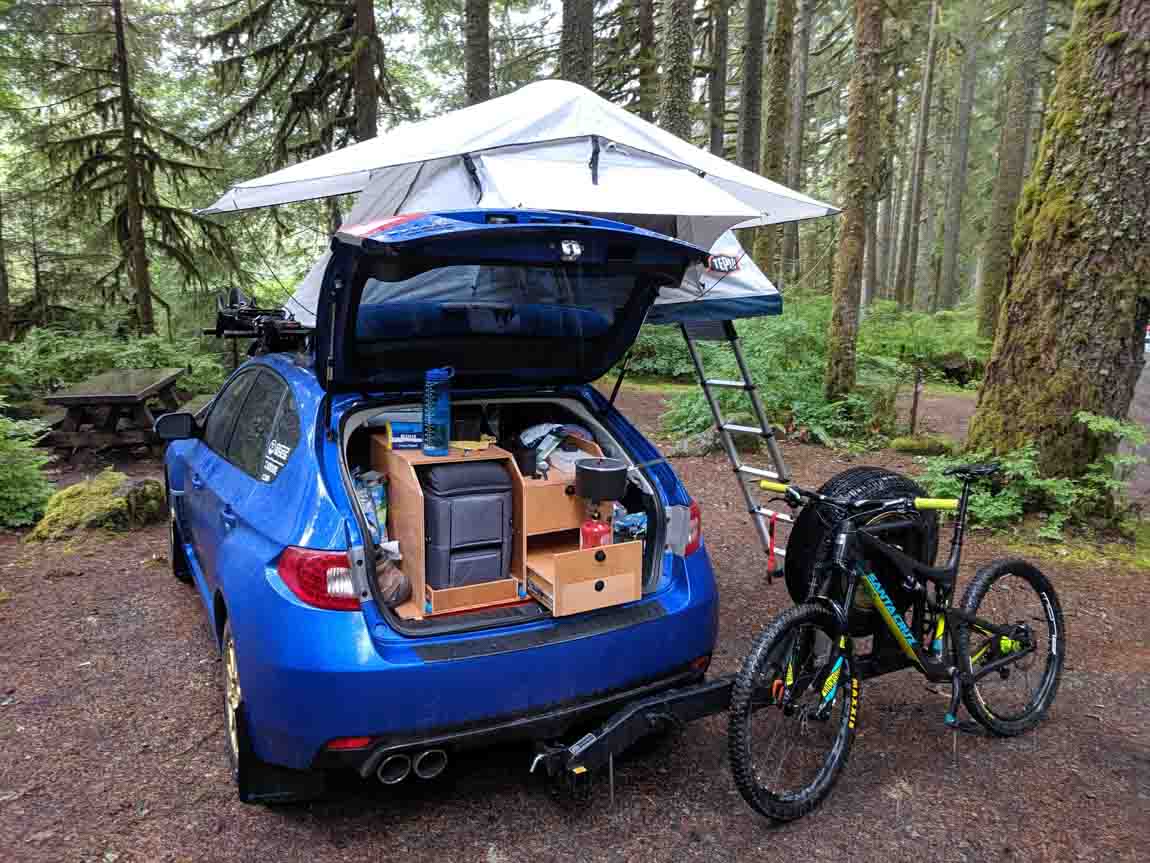 After the waterfalls, I continued south across the border and towards Boulder Creek Campground near Baker Lake. This was the first time that I had to set up the tent in the wet, and I'm happy to say it went nice and smooth. I had it set up in about 10 minutes, and the inside was completely dry, even driving through the rain all day. It continued to rain the entire night until about 3 am. Thankfully, the tent kept me nice and dry throughout the night. The roof tent makes camping so much simpler. I couldn't imagine how much it would suck to set up a normal tent in that Wet Coast rain. Even cooking was not that big of an issue in the rain. The rear hatch of the Subie was big enough for me to stand under and cook my dinner without getting completely drenched.
Day 10 Mt. Baker, WA –> Mt. Rainer, WA
The following morning after I got the tent as dry I could, I packed up and continued making my way south. I decided to make a stop in Leavenworth, which is a Bavarian-themed village in the middle of the Cascade Mountains. I had read about it on the DirtFish website and being a German myself, I just had to stop by. Leavenworth is a really cool little place. All the buildings and houses are styled to look like ones you would find in Bavaria. Even the logos of all the businesses in town have been designed to look German!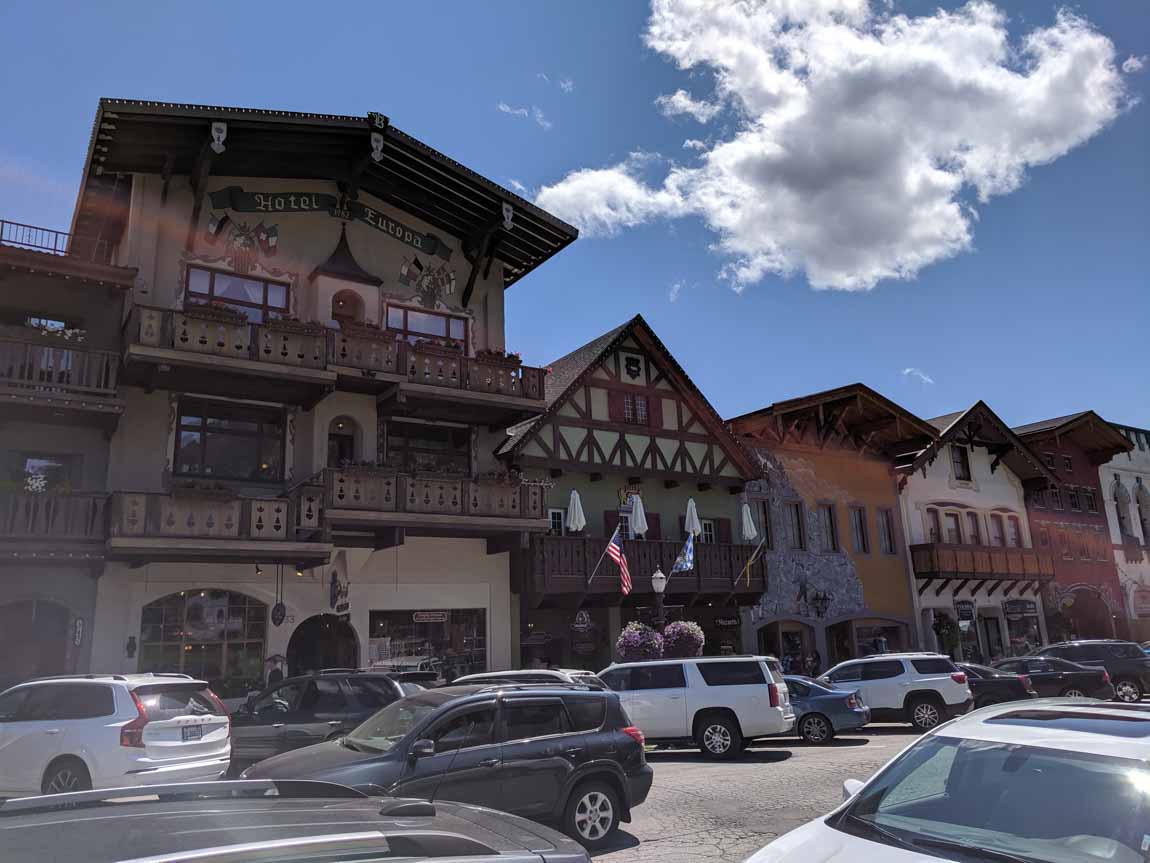 From there, I continued my trek south and got to drive through some amazing country. There were rolling hills with grass as far as the eye could see, which eventually turned into a SAWEET canyon along the Yakima River. Canyon Road parallels I-82, but unlike the interstate, this road had some great views and some fun bits of road. It's a fast 3rd and 4th gear road with some fun twisties. Far better than the interstate, in my opinion.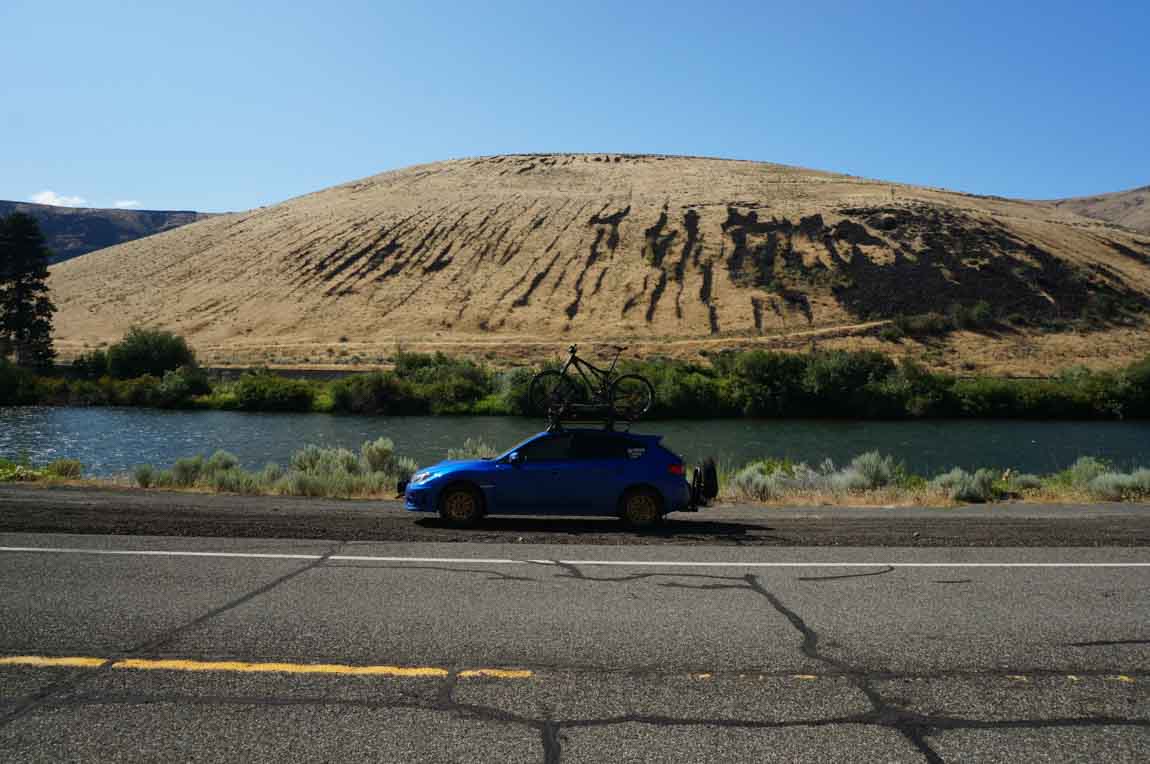 Following that fun drive, it was off to Mount Rainer National Park along another bit of amazing road. As I made my way over Chinook Pass, I traded the grass and plains of Eastern Washington for the jagged mountains and trees of the western side of the Cascades. The absolute best spot that day was Lake Tipsoo. It was one of the most breathtaking places I have ever seen. Funny enough, I actually found out about it from the rotating Windows backgrounds on my computer, and knew that if I ever had the chance to see it in person that I would have to take it. I'm glad I did because it was epic! Words can't describe it, so I decided to take some pictures instead.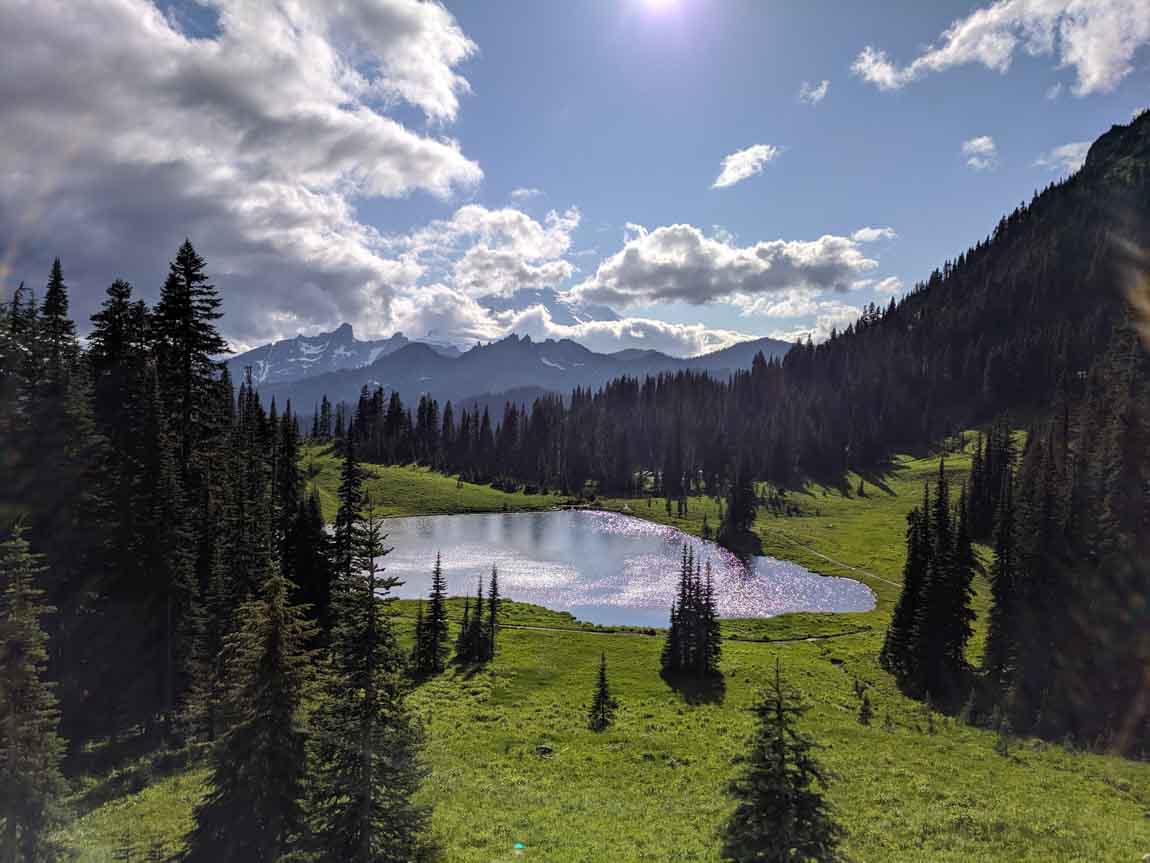 Day 11 Mt. Rainer, WA –> Bend, OR
This was another fantastic day! After making breakfast and packing up camp, the weather gifted me a view of Mt. Rainer. I just happened to find the right spot at the right time. There was a gap in the clouds just big enough to see the mountain! From Mt. Rainer National Park, I continued south on Washington 123 towards Randle and from there south on NFD25. Both of these roads had some amazing scenery. I stopped at Iron Creek Falls along the way, which was another beautiful waterfall. The whole area was very pretty, and I had it all to myself. After admiring Iron Creek Falls, I continued south, and to my amazement, I was able to see Mt. St. Helens. I had no idea I was going to be able to have that view from my route when I planned it, so that was a pleasant surprise.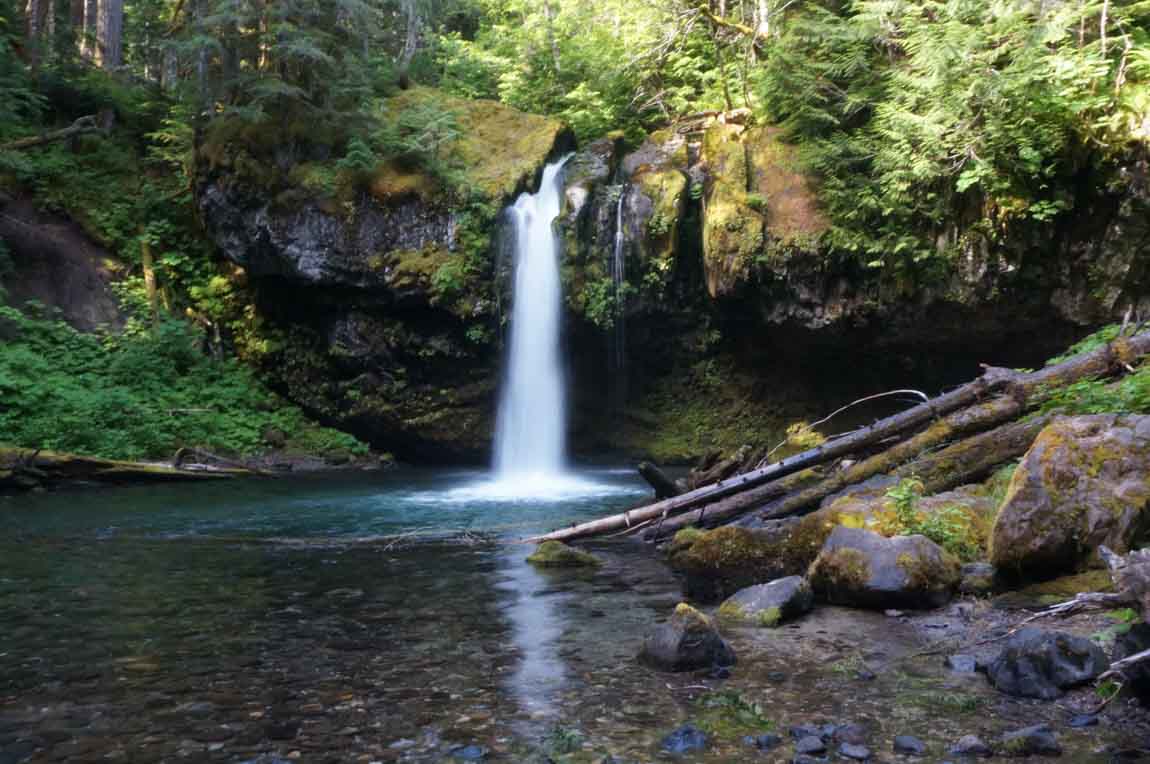 Continuing south, I made it to the Oregon/Washington border and crossed into Oregon over the Bridge of the Gods, which was a huge steel truss bridge over the Columbia River. Out of all the steel truss bridges that I saw on the trip, this was one of the most impressive!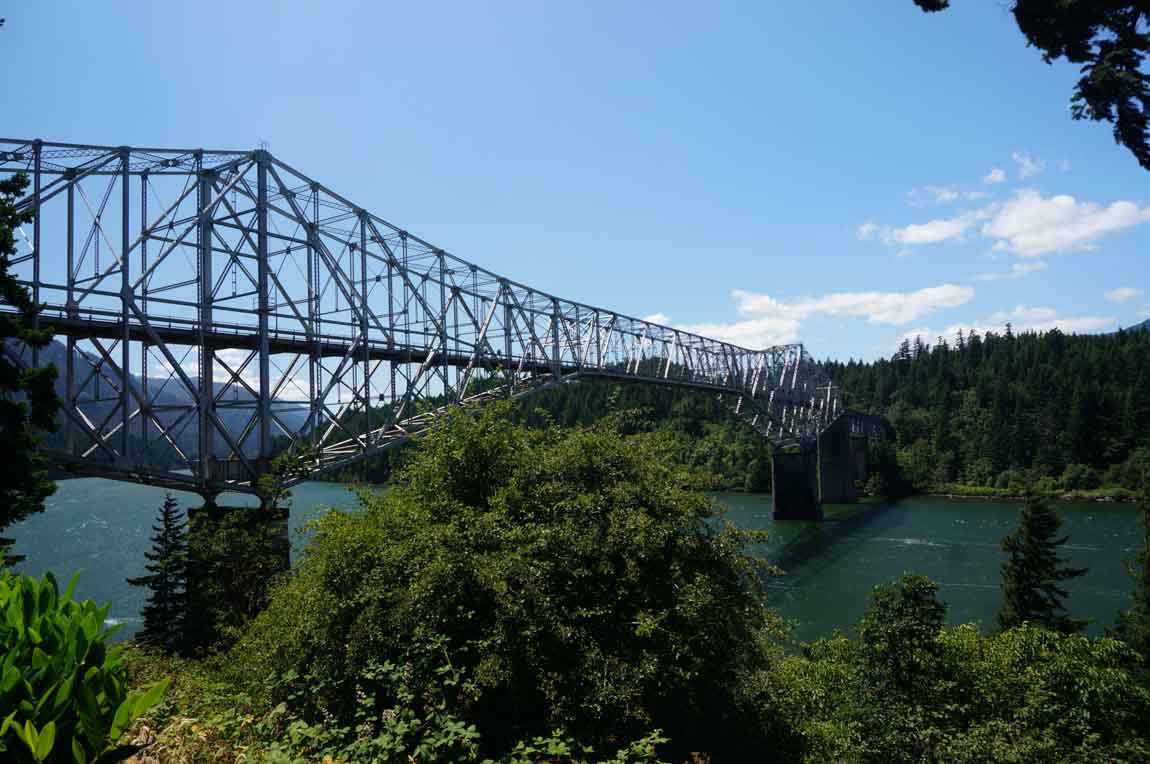 Another unexpected stop for the day was the Bonneville Dam and Locks. I was driving along I-84 towards Multnomah Falls when I saw the sign and decided it would be a cool place to stop since I was already in the area. I was right! It was super cool. This is so much different from the tall dams that we have in Arizona mainly because it doesn't have a massive lake backed up behind it, but instead uses the flow of the river to generate electricity. I learned about the neat history of the dam, and I even got to tour one of the generating plants. They had a ton of old school engineering stuff on display, which being a mechanical engineer by schooling, I completely geeked out over.
After stopping at the dam, it was off to Multnomah Falls. It was another one of those places that I have seen loads of pictures of, but have never had the opportunity visit. While it was pretty crowded, it was still a spectacular place to visit! In my mind, I always thought the famous bridge was much bigger than it actually was. It wasn't big. I decided to get away from the crowds a little bit and hiked to the top of the falls, which was well worth it. The views from up there were incredible! Especially right where the waterfall drops off. It's a little unsettling because suddenly the water just disappears and you know it's off of a massive cliff.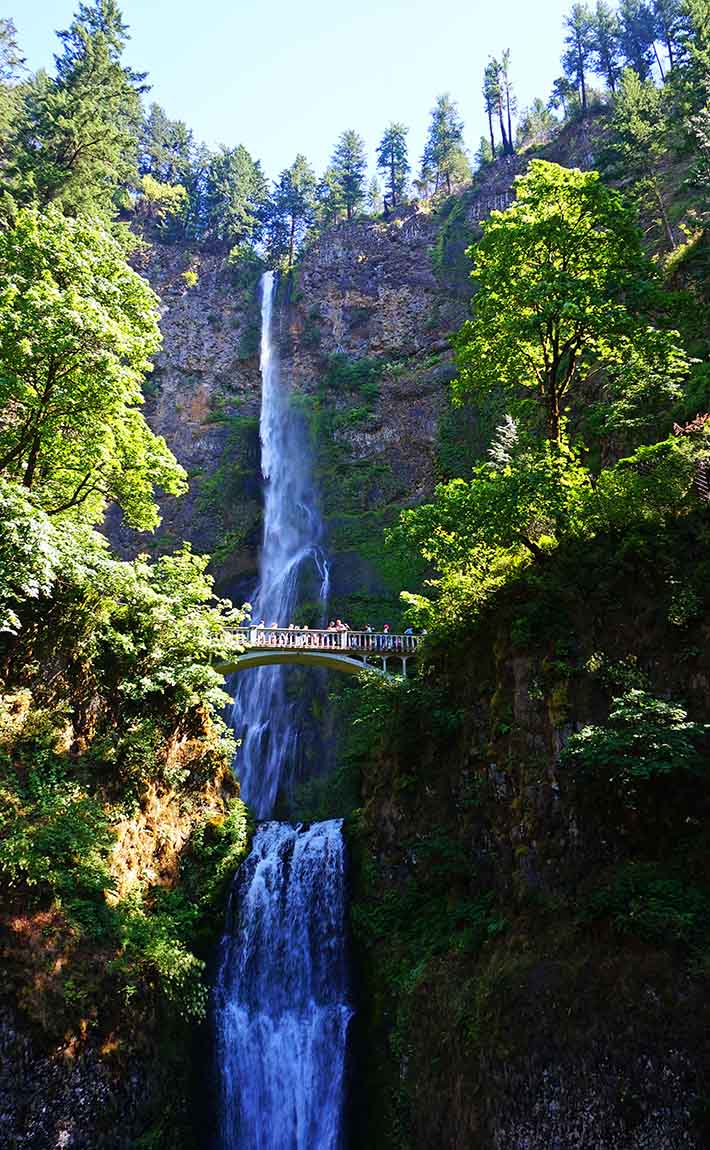 From Multnomah Falls, I continued towards Bend, OR. Conveniently, my route took me right past Mt. Hood. It's another one of those places that I wish I could have spent more time exploring since it was one of the most beautiful places that I have ever driven through. I'm sure the hiking around Mt. Hood is incredible. Bend, on the other hand, looks exactly like Flagstaff. Very similar vegetation and layout. It was so weird how similar the two towns are!
Day 12 Bend, OR –> Lake Tahoe, CA
Day 12 kicked off with one of the best breakfasts I've ever had at McKay Cottage in Bend. Everything from the scone to the omelet was freaking amazing! I continued south towards Crater Lake National Park. It has been on my list of places to visit for a long time now, and it did not disappoint. Pictures don't do the lake justice. The blue color of the water is simply unreal. Even though I spent the better part of half the morning exploring the park, I know I was just scratching the surface of what was there. Following my short exploration of the breathtaking National Park, I made my way towards Lake Tahoe.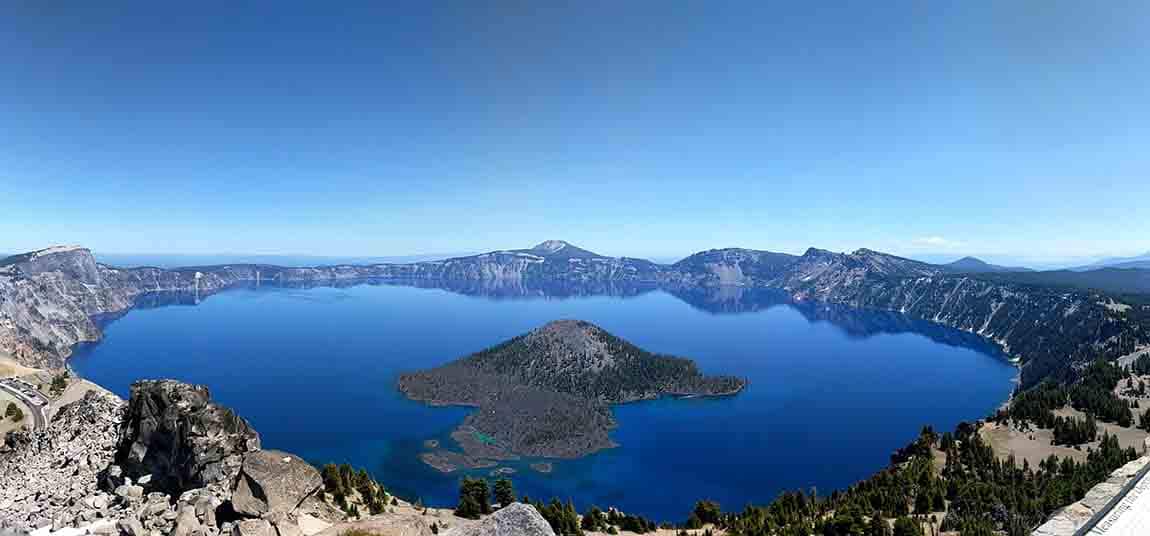 Day 13 Lake Tahoe –> Flagstaff, AZ
Originally, I had planned to spend a full day at Lake Tahoe exploring the area. At this point in the trip, though, I was closing in on almost 3300 miles driven and 12 days on the road, and I was ready to be home. My roof tent was truly amazing, but at the end of the day, it's still a tent, and I was still camping. I was ready to sleep in my own bed again. Instead of exploring Lake Tahoe as I had planned, I made my way home back to Flagstaff. This day was the one that I was looking forward to least as it was the longest day in terms of distance; almost 800 miles in a single day. From Lake Tahoe, I went through the nothingness of the Nevada desert towards Las Vegas and then Vegas to Flagstaff. Once again, the heat of the desert absolutely killed my fuel economy. Along US95 in Nevada, some of the gas stations were 150 miles apart, and the only thing in-between them was nothing. Averaging 15 mpg wasn't going to cut it, so I had to slow down, which meant turning an already long day into an even longer day. When it was all said and done, I was on the road for almost 14.5 hours that day when you include all the fuel and food stops!
Final Thoughts
As I kicked off the trip, there were 63,034 miles on the odometer, and by the time I rolled back into Flagstaff, it read 67,115 miles. That makes the grand total for the #Roadtrip2RallySchool 4,081 miles, which is about the distance I drive in 4 months! Over those 4,081 miles, I used just over 197 gallons of fuel. That means the average miles per gallon during the trip was right about 20.7 mpg. Considering my WRX is lifted, on all-terrain tires, had a tent and a bike strapped to the roof, a trail kitchen in the trunk, and another 100 pounds of spare tire and spare tire carrier hanging off the back, that gas mileage is pretty good. The majority of the time, I drove the speed limit, or purposely just below it to conserve fuel as I didn't want to fill up every 200 miles. The most expensive gallon of gasoline I saw was $5.02, which was in Vancouver, Canada, even with the exchange rates. The cheapest I found was when I arrived back home in Flagstaff at $3.50/gallon. The best single tank I had was driving down from Bend to Susanville. On that 339 mile stretch, I averaged 24.6 mpg. Alternatively, the worst mileage of the entire trip was on day 1 when I was driving through the California desert between Kingman, AZ and Barstow, CA. Thanks to the heat, I averaged 18.6 mpg over 199 miles.
I don't think I will ever go on a trip like this again by myself. With the number of miles I drove, it got pretty dull at times, and I had to drive all those miles myself. I will definitely go on road trips again in the Subaru, but next time, I will make sure I have company. Even as cool as all the destinations were, I would really like to share those experiences with someone else. I don't regret going on the road trip because I got to meet some fantastic people and see some amazing things that I have always wanted to see. Without DirtFish, Blipshift, and all of the support from my friends and family, this trip would not have been possible.