Following the unbelievably insane double header race in Ottawa nearly three weeks ago, it's now time to prepare for round seven of the 2017 Red Bull Global Rallycross.
The race in Ottawa was by far one of the busiest that the DirtFish Motorsports team has seen in a long time. Day one was successful for both Conner Martell and James Rimmer, all the way up to the last lap of the final where James briefly flipped the car on its side and nearly rolled all the way over after striking a stack of tires. Luckily, Conner was able to bring home his third podium of the season. Since there was another round of racing the following day, the entire crew of technicians worked tirelessly at the track until 2AM to repair the damage and replace the entire front end of the car. The skill and talent it takes to be able to do this was a true testament to their abilities!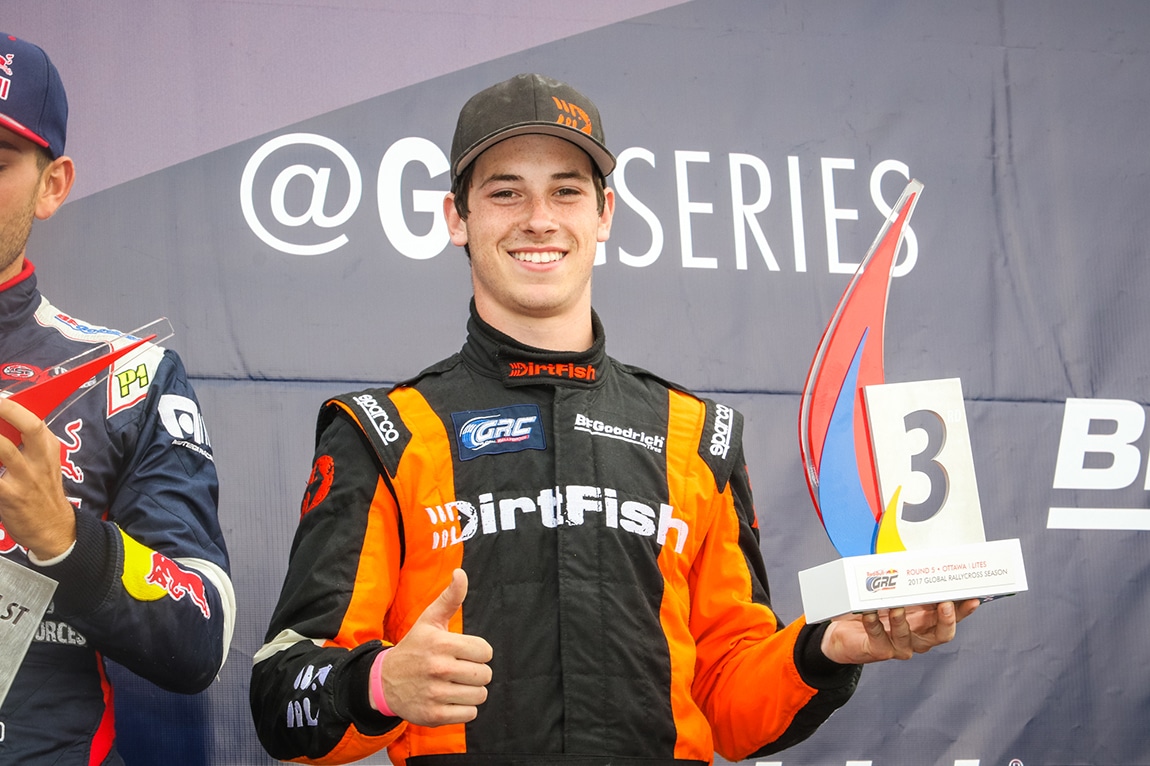 While Conner hadn't been on the podium since round two in Louisville, Kentucky, his third place finish in Ottawa has moved him back up in the championship standings from fourth to second place. This has really boosted his confidence and pushed him to focus even more on his chances of bringing home an overall championship in 2017.
While in Ottawa, James was able to prove that he could be a contender for podium positions with some of the best driving the team had seen from him. Prior to his wreck in round five, James had been battling for the third place position until the final lap. All of the hard work from his crew paid off the following day, when James went on to finish in the highest position of his GRC career. The following day, you would never have guessed that he had been in a wreck only twelve hours before. He was able to walk away from round six with a fourth place finish – his best Red Bull Global Rallycross finish to date!
This weekend's race will be held at the Lucas Oil Raceway, which is located just outside of the home of the Indy 500. While it's not the iconic "Brickyard", this location is very well suited to the hard hitting action of Red Bull Global Rallycross. With a small oval track, drag strip and additional surface roads, the GRC track builders have a lot to work with. This will be the third venue of the year that features an oval, and with the way they have incorporated the previous two, we are anxious to see what they are able to come up with this time around.
Everyone at DirtFish Motorsports is anxious and excited for the race this weekend! The races happen this Sunday at the Lucas Oil Raceway. Follow the team and drivers throughout the weekend on their social media accounts:
DirtFish:
Facebook: https://www.facebook.com/DirtFishRally/
Instagram/Twitter: @DirtFishRally
Conner Martell:
Facebook: https://www.facebook.com/ConnerMartell21/
Instagram/Twitter: @ConnerMartell21
James Rimmer:
Facebook: https://www.facebook.com/JamesRimmer25/
Instagram/Twitter: @JamesRimmer25