DirtFish Motorsports drivers Conner Martell and James Rimmer are putting all their skills to the test as they continue their driving training program to prepare for the Red Bull Global Rallycross Lites season, which launches in Memphis, TN on April 29.
DirtFish firmly believes that cross-discipline driver training brings the best results to all racers. In addition to our race team, we see competitors from all over the world coming to DirtFish to hone their skills, increase their confidence and learn to push to and past the edge knowing they have what it takes to reign it back in. Those improved skills are then brought back to the track or to the dirt bringing better times, less damage and more consistency. Both drivers have been training in multiple vehicle platforms and drivetrains here at DirtFish. The tricky conditions, multiple surfaces and different drive trains have helped both Conner and James find precision, accuracy and speed. The DirtFish property is mostly gravel with a minimal amount of tarmac which makes it a great place for mixed surface training.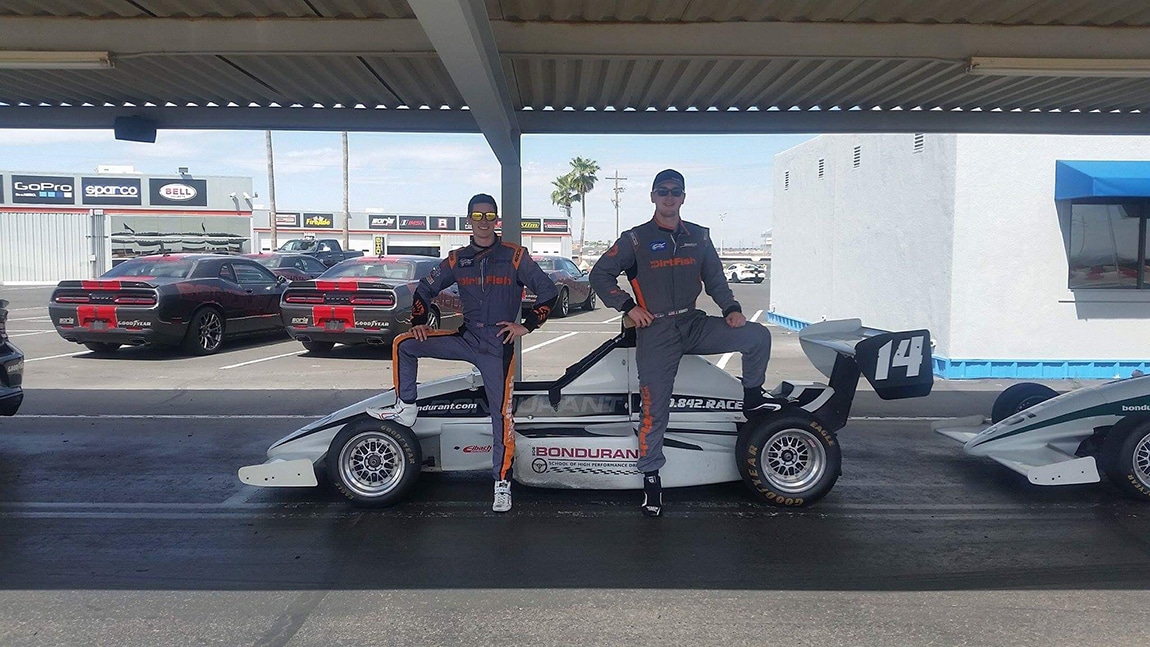 To get some race track training and to try out a new drive train; open wheel Formula Mazdas, both drivers headed down to Bondurant at Wild Horse Motorsports Pass. This was the location of the first GRC race in 2016, where Conner finished his first Rallycross with a podium and first place finish. During the first day of training in the Formula Mazdas, they worked on a few techniques required to understand the basics of the platform. They then spent the next 2 and half days driving the cars on multiple different track layouts. Both drivers commented on how fun the open-wheeled cars were to drive, but also how fatiguing they were; some adjustments to Conner and James' physical training plans will ensue. While driving at Bondurant, they were able to work on discipline, accuracy and patience, all while trying to get the most out of the rotary powered cars that doesn't really produce power or torque until high RPM. Both found huge improvements in lap times as they focused in and figured out how to maximize the grip and the vehicle's potential. This training leads right into our test in two weeks, where the team is expecting good results leading up to the first race.
James Rimmer says, "Bondurant Racing School was extremely helpful in my development as a driver, learning patience and timing on asphalt will carry over to Red Bull Global Rallycross in a big way to help me be successful."
Post by: Michelle Miller (DirtFish Motorsports Team Manger)