Jim Beaver Shows Excellent Pace at Vegas to Reno
Uncategorized | August 27, 2018
PARKER, ARIZONA (August 20, 2018) — Off-road racing veteran and media personality Jim Beaver returned to racing action this weekend with his Vision Wheel and General Tire-backed Polaris RZR at General Tire Vegas to Reno, the seventh round of the 2018 Best in the Desert Racing Association season. Racing the #915 in the Pro Turbo UTV class, Beaver and navigator James Hill would handle racing duties for the first half of the event, while Trent Beaver and Bryant Shontz were scheduled to step in for the second half.
The #915 left the line 18th in class on Friday morning, ready to do battle with some of the sport's top competitors on the 530-mile course. The team had five planned pit stops in the 14 pit areas, with a crew of five chase vehicles leap frogging across the state of Nevada and additional pit support by the Checker's Off-Road Support Team.
Beaver ran a solid pace up to their first fuel stop at Cottontail 100 miles in to the race, putting up times and speeds comparable with some of the fastest teams in the class. After a desert rain storm soaked the route, the team made a brief stop at Goldfield to clear their helmet visors and continue to move on. The team then had to pit sideways at their next scheduled pit in Tonopah after another competitor overshot their pit stall, before planning to pit next at Coaldale to fuel a third time and make the driver switch almost 300 miles into the race. Two more fuel stops were planned before the finish line in Reno.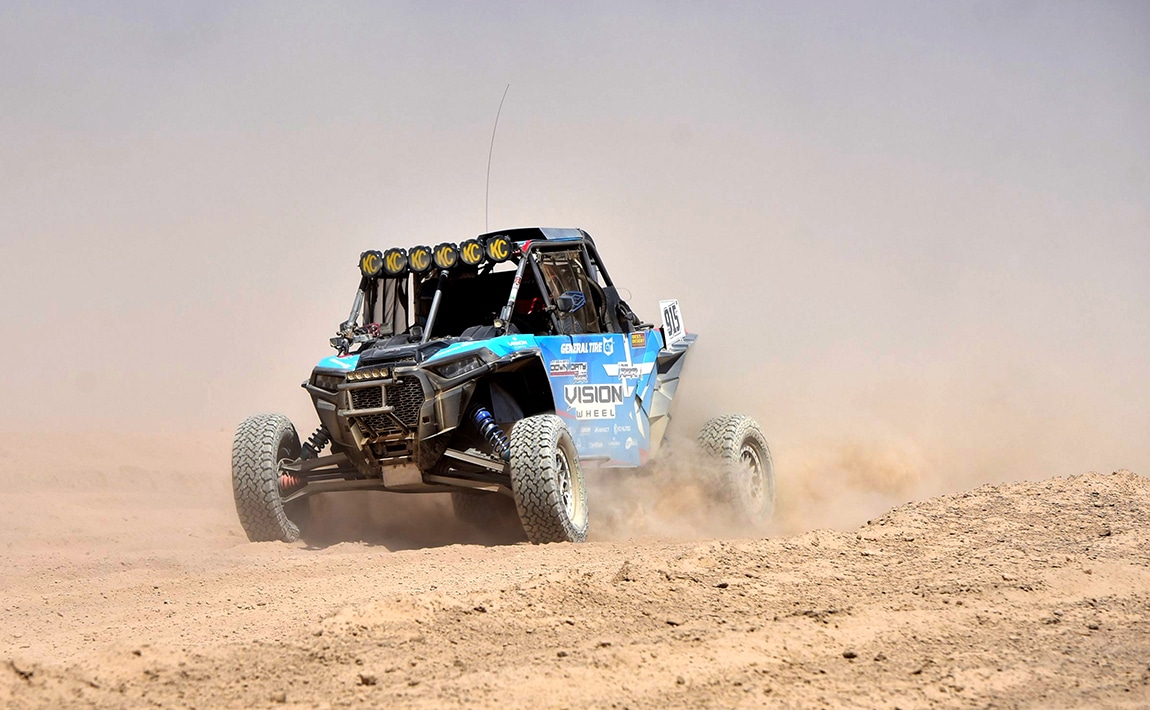 Unfortunately, it wasn't meant to be. At race mile 233, Beaver came to a stop with cooling issues after trouble with its aftermarket electric fan. After a prolonged stop to diagnose and attempt to remedy the problem, the team was able to get back going, but only made it another 20 miles before having to pull off once again with the same problem around mile 253, and this time for good, as the sun set on the Nevada desert.
"My Vision Wheel and General Tire backed Polaris RZR ran great all day," stated Jim Beaver. "We have been doing a lot of development work to the race car the past year and a half in conjunction with my RZR Star Car program, and this was the first race we were really able to put this car through its paces. I am very happy with what we saw, and to know that we were able to run in the top 15 the entire first half of the race in a class with 60 very capable drivers, it shows this car has the speed to take podiums."
General Tire Vegas to Reno may have marked Beaver's final planned race of the 2018 Best in the Desert season, but that doesn't mean he won't be busy for the rest of the year. He'll return to the microphone and camera for the Lucas Oil Midwest Short Course League on Labor Day weekend, calling the 49th Annual World Championship Off Road Races for television and 3rd Annual Crandon World Cup/Amsoil Cup at Crandon International Raceway. He will also have his Project Unicorn RZR on display at the Sand Sports Show in September with Motoshield Pro and will be making appearances at the show. In addition, fans of the Down and Dirty Show Powered By Polaris RZR can continue to expect the best interviews with the biggest names in motorsports every week, while Project Action on Podcast One continues to go in depth with world-famous racers, athletes, celebrities, and more.
About Jim Beaver:
Jim Beaver is a professional off-road racer, nationally syndicated radio host, and TV personality. A 3rd generation race car driver who is currently competing in off-road's premier Trick Truck division as well as being a factory Polaris RZR driver in the Polaris RZR Star Car. His radio show, the Down & Dirty Radio Show Powered by Polaris RZR, is the #1 motorsports radio show in the United States on iTunes, and is syndicated to 200 AM/FM networks domestically and available internationally on the American Forces Network. He has been instrumental in pushing off-road and action motorsports to mainstream America through various television, radio, print, and online appearances while actively competing in and covering the events. He can be followed online at @JimBeaver15 on  Facebook, Instagram, and  Twitter. More information on the Down & Dirty Radio Show can be found at www.DownAndDirtyShow.com, or by following @DownAndDirtyShow on Instagram.