Jim Beaver Motorsports Conquers General Tire Vegas to Reno
Uncategorized | August 20, 2019
PARKER, ARIZONA (August 19, 2019) –– Jim Beaver, professional off-road racer and host of the Down & Dirty Show Powered By Polaris RZR, and the #915 General Tire/Vision Wheel Polaris RZR team completed the longest point-to-point off-road race in the United States by finishing the 2019 edition of General Tire Vegas to Reno. Led by drivers Jim and Trent Beaver and co-drivers James Hill and Bryant Shontz, the team completed 505 miles of rough desert terrain in 12:42:50.543, good for 26th place in the UTV Turbo class—a climb of 32 spots after drawing the 58th starting position out of 64 total entries.
"General Tire Vegas to Reno is one of the most challenging events in off-road racing, and I'm proud to say that we made it to the finish this year," said Beaver. "We've worked hard to make our Polaris RZR as reliable as possible, and we managed our equipment throughout the day to make it to the finish. I have to thank James, Trent, and Bryant for everything they did to help us run well out on the course, as well as our awesome team for flawless pit stops throughout the day. We know we have a solid platform, and even as UTV Turbo keeps getting faster and faster, we keep improving right along with it."
Jim Beaver started and finished Friday's race, handing off the car to his brother Trent at the Millers pit stop and returning to the driver's seat at Top Gun. Aside from the typical wear and tear of a desert race, including the occasional quick fix while out on the course, the team didn't encounter any major stoppages throughout the day. However, the team did stop within a few miles of the finish to help pull another competitor out of a dangerous position on the side of a cliff.
"We're all racing for the best finish possible, but none of that matters when another competitor is in danger," added Beaver. "We just did what we hope anyone else would have done for us in that position. I'm thankful that the team we helped is safe. The last few miles of General Tire Vegas to Reno are some of the toughest in off-road, and sacrificing a few minutes on our result to make sure that they were all right was well worth it."
General Tire Vegas to Reno caps off a successful 2019 desert race program for Jim Beaver Motorsports, with finishes in all but one UTV Turbo event run by the team. But the racing doesn't stop for the team on the virtual side, as Jim Beaver eSports will return to eNASCAR PEAK Antifreeze iRacing Series action on August 20 at Bristol Motor Speedway, August 27 at Darlington Raceway, and August 29 with a live all-star event on the NBC Sports Network as part of NASCAR America.
Jim Beaver Motorsports is supported by Polaris RZR, Vision Wheel, General Tire, 4 Wheel Parts, DirtFish Rally School, Gibson Performance Exhaust, Impact Race Products, Assault Industries, My Medic, SuperATV, Pro Armor, HCR Racing, Rigid Industries, iRacing, Queen Racing, and IMG Motorsports. For more information on Jim Beaver and the Down and Dirty Show Powered By Polaris RZR, visit www.downanddirtyshow.com, follow @JimBeaver15 on social media, and follow @DownAndDirtyShow on Instagram.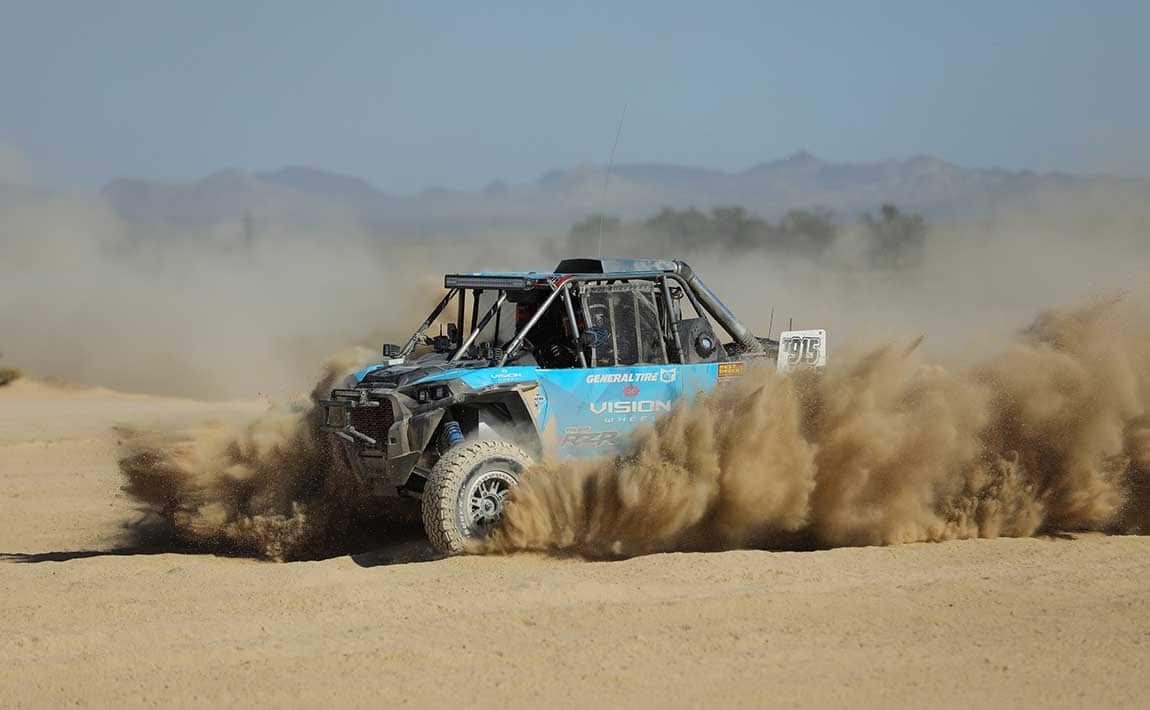 For more information please visit: Jim Beaver's Down and Dirty Radio Show: downanddirtyshow.com
About Jim Beaver:
Jim Beaver is a professional off-road racer, nationally syndicated radio host, and TV personality. A 3rd generation race car driver who is currently competing in off-road's premier Trick Truck division as well as being a factory Polaris RZR driver in the Polaris RZR Star Car. His radio show, the Down & Dirty Radio Show Powered by Polaris RZR, is the #1 motorsports radio show in the United States on iTunes, and is syndicated to 200 AM/FM networks domestically and available internationally on the American Forces Network. He has been instrumental in pushing off-road and action motorsports to mainstream America through various television, radio, print, and online appearances while actively competing in and covering the events. He can be followed online at @JimBeaver15 on Facebook, Instagram, and Twitter. More information on the Down & Dirty Radio Show can be found at www.DownAndDirtyShow.com, or by following @DownAndDirtyShow on Instagram.