This weekend was the 4th rally event on the 2016 NASA Rallysport calendar. With wide open, fast and flowing roads, the Idaho Rally is an absolute favorite amongst drivers, co-drivers and fans. Based in the small picturesque mining town of Placerville, Idaho, Placerville only has a total population of 53, which just adds to the uniqueness of the event.
Last year, DirtFish was well represented with James Rimmer in his Subaru BRZ, DirtFish Instructor, Sam Albert, in his WRX STI, and quite a few past DirtFish students competing in their own rally cars. This year, we had an even bigger turnout! James Rimmer competed in his Subaru BRZ, and DirtFish Instructors Michelle Miller, Travis Nease, and Kathy Hardy competed as well. James had a great weekend with co-driver, Jason Grahn, finishing 2nd in the two-wheel drive class and 7th overall. After taking some time off to attend college in Colorado, James said, "Everything finally clicked into place!" regarding his driving technique and car control over the weekend. The car was running great, the notes were near perfect, and James' driving was on point, all of which helped him achieve a great result.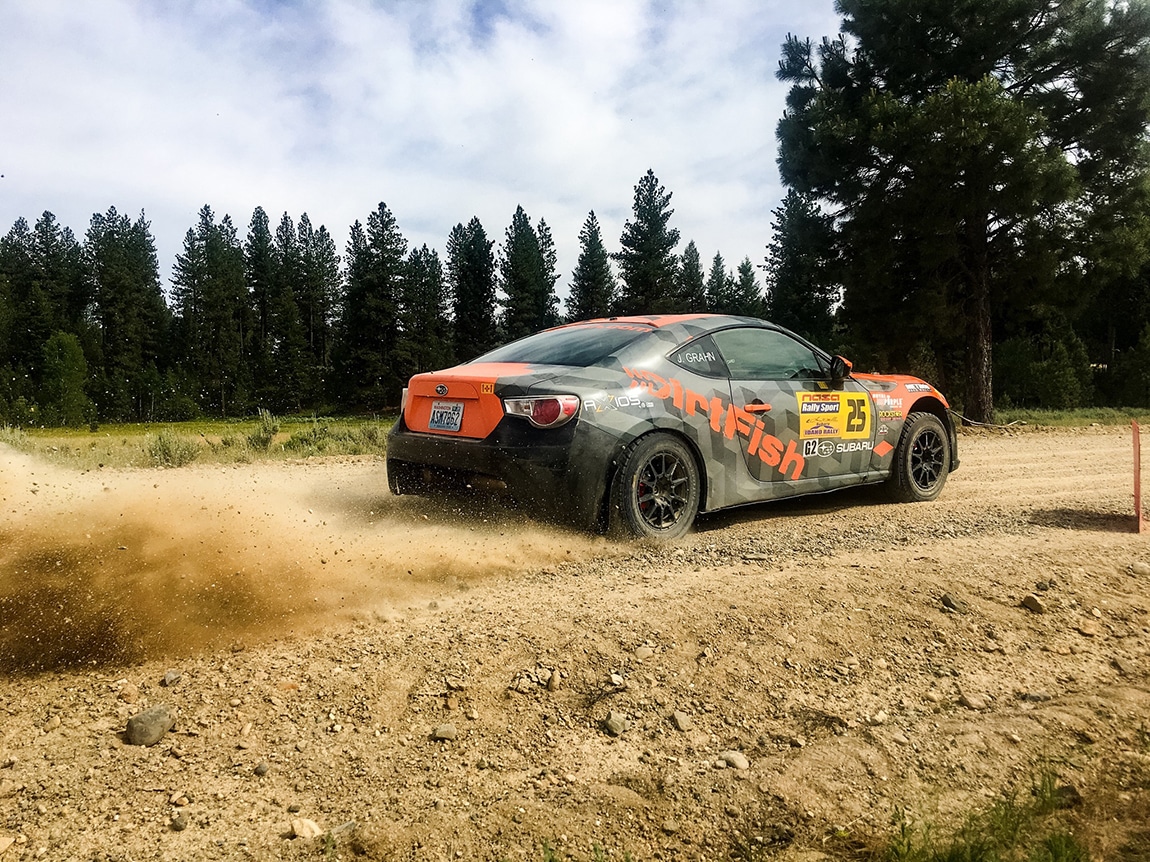 Next on the list was the newest DirtFish instructor, Travis Nease. Travis along with co-driver, Danny Norkus, were unfortunately plagued with brake problems throughout the event, but still managed to lay down some fast stage times and finish 11th overall.
Another new DirtFish Instructor, Kathy Hardy, was co-driving for her husband, Judd Hardy, in their amazingly cool 1980 Volvo 242. They finished 24th overall, beating out much newer cars in the process with some great driving.
Finally, DirtFish veteran Instructor, Michelle Miller, competed as a driver for her first time ever in an actual stage rally. Michelle has been getting her toes wet over the last year by co-driving for multiple drivers in the Pacific Northwest, achieving great results. This time, her trusty sidekick in the passenger seat was her husband, Chris Miller. Michelle and Chris finished the rally 40th out of 66 drivers! They only had 3 goals this weekend, and each one was accomplished: stay married, finish the rally, but try not to finish last!
DirtFish has recently partnered with modular LED light bar company, Axios, who's parent company, ECCO Safety Groups is based in Boise, Idaho. To add to the weekend, representatives from Axios and ECCO were able to join us over the weekend for some rally fun! It was great for the rep's to have the opportunity to truly see what we do, and meet the amazing group of people we have behind our teams. We are happy they were able to join us!