Conner Martell – GRC Lites Cross-training
Uncategorized | March 29, 2016
After a successful rookie season, DirtFish Motorsports is going full-force into the 2016 Red Bull Global Rallycross Lites season, aiming to bring home a championship title at the final race in Los Angeles. The entire team realizes that this will be no small task. With the level of competition in the GRC Lites consistently stepping up each year, there will be a lot of hard work required; in order to prepare for the season opener in May.
Our main focus for preparation this pre-season has been giving our new GRC Lites driver, Conner Martell, all the tools and skills needed to be successful in the series. We are working hard to prepare Conner for the 2016 season and helping him become a well-rounded driver, who can excel in more than one discipline.
This is where cross-training really comes into play. Yes, training in the car he will be racing in is very important, however we believe that getting behind the wheel of a variety of vehicles will help his driving improve a massive amount. We view Karting as one of the best platforms when it comes to cross-training for any racing discipline and there are many similarities between karts and driving a GRC Lites car. Karts are fairly underpowered, making it very important to carry your speed and momentum into and through every corner, without overdoing it. The very short wheelbase of the karts also makes it extremely easy to slide or spin (which doesn't translate into fast lap times). Basically, it is easy to mess up an entire lap in one corner. Much like the GRC Lites, karting requires very clean, smooth driving and choosing your lines wisely to get through the corners as quickly and effortlessly possible. Conner had this to say about using karts for training, "Another great benefit is that it teaches you to be consistent, and consistency is what wins championships in GRC."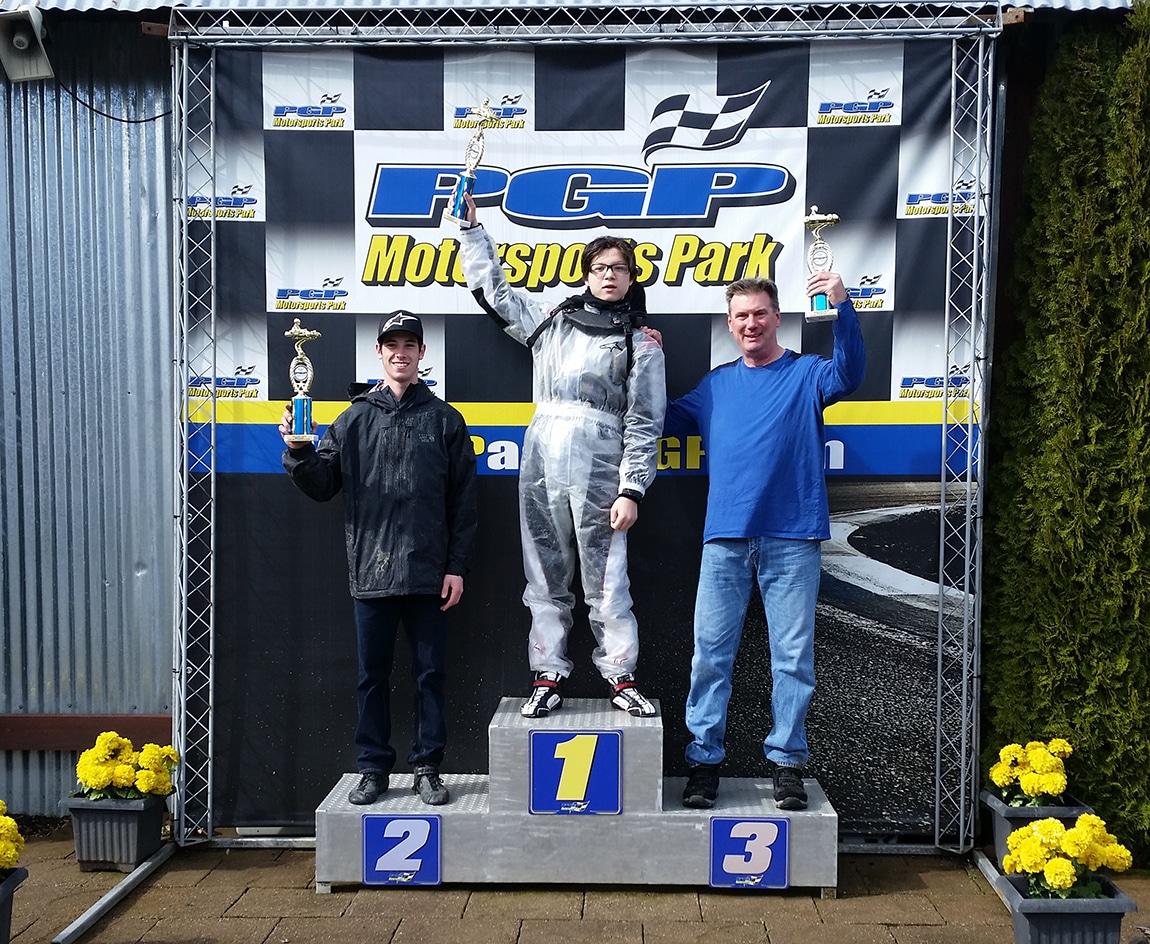 Conner compares much of the training and hard work with DirtFish to his time spent preparing for motocross. Enduring similar workouts and fitness programs and spending a good amount of time in the gym each day to make sure he's in the best shape possible. Although it may seem like he's simply sitting in a car driving, it actually takes a lot of strength and stamina to be successful, so being in top physical shape is extremely important. Another comparison that Conner had was about mentality, saying, "You always have to be positive and not let anything get you down, or you will not be able to perform at 100%."
The part that isn't quite the same between the two disciplines is the setup of a dirt bike vs. the car. When racing motocross, Conner didn't have to worry as much about setting the bike up for each track, however, when it comes to the GRC Lites car, setup is one of the most important aspects. It is key to get the car prepped as close to perfect before each race starts, making it one less part of racing that he will have to worry about and letting him put more effort and focus into driving and driving well.
The more we have Conner training in different driving platforms, the more aware he will be of what is happening with the car during practice and racing. This will help him clearly communicate any needed changes to the service crew and make him a very well rounded competitor.