Meet the Ahners, and Encompass Family
Just weeks after she was born, Sierra Ahner began having frequent seizures. Desperate for an explanation, first-time parents Dana and Dan received devastating news: the seizures were do to Aicardi Syndrome, a rare genetic malformation of the brain with a limited life expectancy. They were told Sierra would never walk or talk.
The Ahners were then referred to Encompass for Early Intervention services. A team of therapists came to their home every week, working with Sierra to build her independence and giving the Ahners hope. Under the attentive care of the Encompass staff, Sierra eventually learned to walk on her own and to communicate with others.
With Sierra thriving, the Ahners adopted two infants into their family: Cassidy and Reilly. Because both babies were affected by prenatal drug exposure, the Ahners were reunited with Encompass. They were able to help Cassidy and Reily catch up to their developmental milestones by age five.
"Dealing with unknown or unexpected circumstances as a parent can feel like you are constantly treading water, just trying to stay afloat. When we were drowning, Encompass was the one who pulled us from the water… When I think of the many families who haven't even begun their unexpected journeys, it gives me comfort to know they will have Encompass to turn to." – Dan and Dana Ahner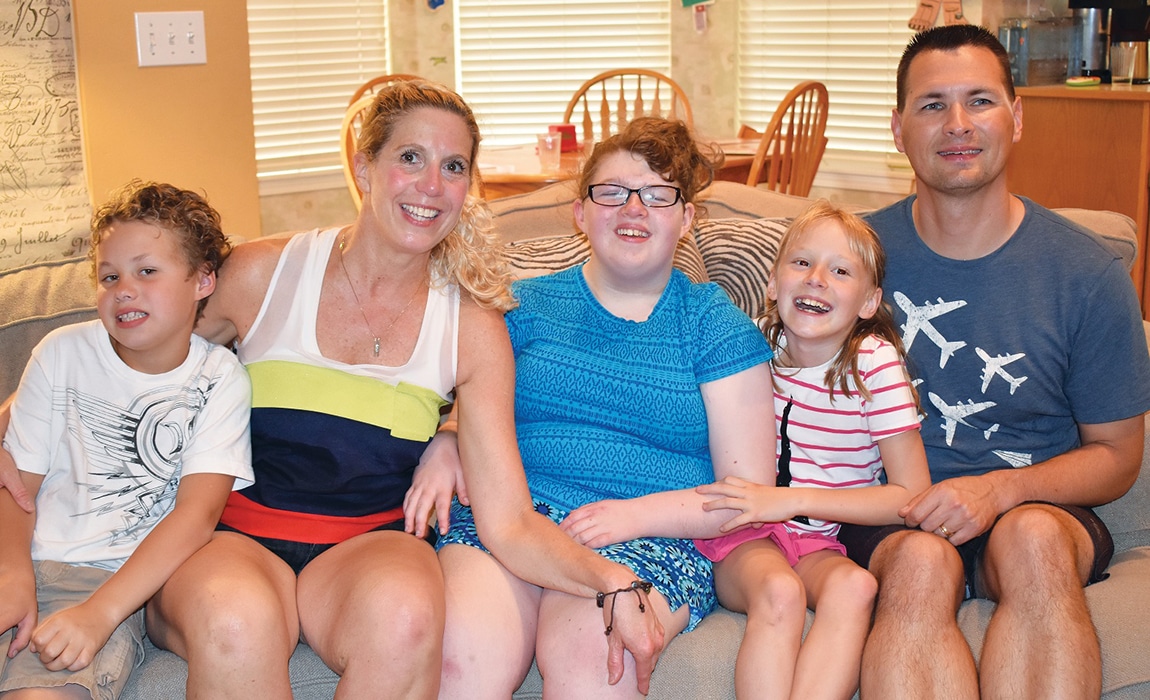 About Encompass
Encompass began in 1966 by a group of parents, seeking a school and a 'place to belong' for children in the community with special needs. Today, Encompass provides education and pediatric therapy programs to typically-developing children and those with delays and/or disabilities.
Over decades, the organization has become an integral part of the Snoqualmie Valley, responding to changing community needs. This included the addition of our home-based Birth-to-3 Early Intervention program in 1980. Encompass continues to grow but our mission retains the spirit of nurturing children and enriching families in our community.
From a toddler's very first playgroup to workshops for seasoned learning professionals, Encompass provides comprehensive education and enrichment programs for students of all ages in our community. Below are a few of the services Encompass offers to the community:
Early Learning
We offer early learning programs for children of all abilities from ages 12 months to 5-years-old. We prepare our students for lifelong academic and socio-emotional success by combining our professional learning staff with our team of leading-edge experts in child development and therapy. Our NAEYC-accredited program promotes discovery, creativity, and social problem solving as well as emotional, cognitive and physical development.
Pediatric Therapy
The first years of a child's life are a time of rapid brain development that will never be matched again. Parents can help their children take full advantage of this rich growth period by prioritizing developmental screenings and early intervention pediatric therapies to make major leaps forward in everything from language and speech development to interpersonal interaction. Children whose delays are caught during this time see much better long-term progress results than those who are treated later.
Free Parenting Workshops
Encompass has partnered with Snoqualmie Valley Hospital to offer groundbreaking workshops that will help your family thrive.
On the first Tuesday of each month from 6-7:30 pm, experts will present the latest scientific research findings on child development in a useful, practical way. Learn the pillars of your child's physical, social and emotional development and why they are critical to your child's future success in academics and in life. All workshops in this series are FREE with online registration. Attend one or attend them all, but please register in advance as space is limited!
Behavioral Mental Health
This 14-plus-week intensive program helps parents and children who are experiencing significant disruptive behavior or relationship struggles, including those with ADHD and who may be on the autism spectrum. It gives equal attention to the parent-child relationship and to parents' skills in behavior management, allowing for improved relationships.
Summer Camps
For 15+ years, Encompass has been the enrichment summer camp of choice for Snoqualmie Valley families. Our award-winning summer camps offer 35 unique themes including: "Super Seahawks," "LEGO Builders," "Honey Bear Bakery," "Animal Adventures," "Jungle Safari" and so many more.
Each camp includes teacher-planned, age-appropriate, theme-based crafts and activities. Encompass provides healthy snacks daily for all campers and activities take place in both our beautiful outdoor and indoor learning environments.
Parent-Child Home Program
PCHP is an evidence-based early literacy, parenting, and school readiness model that is committed to closing the achievement gap by providing low-income families the skills and materials they need to prepare their children for school and life success.
Each week, early literacy specialists provide the family with a high-quality book or educational toy that is a gift to the family and are often the first such items in the home.  Using the book or toy, the literacy specialist models reading, conversation, and play activities designed to stimulate parent-child interaction, develop language and literacy skills, and build school readiness.
Kinship Care Support
Providing emotional and moral support and practical referral to services for grandparents and other relatives thrust into the role of raising children. 
By participating in Kinship Care Support, you come to know that others are in the same situation as you–and as a result, the children in your care come to the same realization. Go from overwhelmed to well-equipped with Kinship Care Support.
Click here to find out more about Encompass.
Follow them on Facebook at facebook.com/encompassnw/